Control access to the admin panel
This option will become more useful when you need to create users that should not be able to sign in to the admin panel. For example, applications. Also, in the future it will be possible to control access to your channel(s). You may want a user to be able to view content shown on your channel, but not have the ability to sign in to the admin panel to access the management section.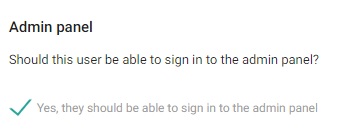 To find out more about this, the video CMS, or the rest of the online video platform please do use our contact form, or email us directly at [email protected].
Updated: February 22, 2016